1st Service Broadcast by Closed Circuit
Today Gwinnett jails house 1,923 persons, far fewer than they did ten years ago. But our only contact with inmates has been by one on one visitation, small group Bible studies, and by forwarded literature. Until now that has made full coverage difficult at best.
But February saw the first GGRA sponsored service to be viewed live by closed circuit video to all the viewing inmates in each section of the jail.
Jonathan Marion—a returning citizen from First Baptist Church of Lilburn—had the opportunity to share his testimony at this event.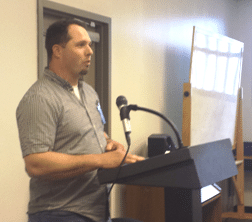 Jonathan's battle with drugs and their destructive effects on his family stands in sharp contrast to the transformed life he now lives. God worked in Jonathan to make wasted suffering into useful suffering for the Kingdom of God, and he shared that with the watching inmates. Then he challenged them all, saying that they too can be rescued through Christ, our only HOPE.
Please pray God will use this closed circuit video to permeate all the jail pods (sections) and soften hearts throughout the building on a regular basis.
Thanks to GGRA for their leadership.